Safe, convenient and affordable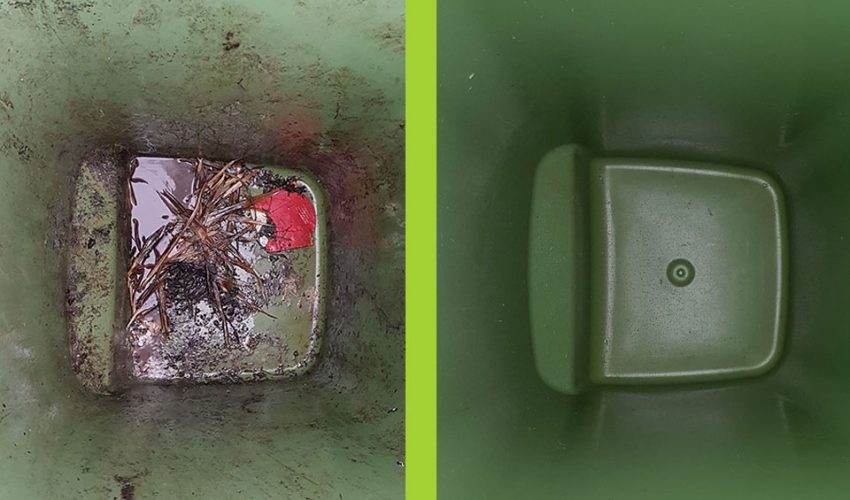 Bins are a necessity for any type property, be it commercial or residential. However, keeping your bin clean is a real challenge, and that's where Deluxe Wheelie Wash in Mackay comes in to its own.
From leftover food to commercial waste, bins are a magnet for harmful bacteria and foul odours. If left for a period of time, they can soon become dangerous and extremely unpleasant.
Employing a professional to keep your bins clean is highly recommended, and Deluxe Wheelie Wash in Mackay are here to help.
Our team will arrive on the day you bin has been emptied to give it a thorough clean. Using professional equipment that is safe and conserves water, our technician will arrive in our branded vehicle ready to go to work on your bin.
The wheelie bin wash process

The process begins with a thorough jet wash both inside and out to remove excess dirt. We will then thorough scrub the insides of the in using our special disinfectant, ensuring all of those germs, harmful bacteria and bad odours are scrubbed away.
Next, we will crank up the pressure and blast your bin with another jet, this time unloading 3000psi of water pressure on to the bin. This ensures that the bin is thoroughly rinsed and flushed of any remaining water, dirt and debris. While it is attached to our vehicle being flushed, we will also jet wash the outside and underneath of the wheelie once again, removing any ground dirt from the exterior.
Before we finish off, we will mop the inside of the bin thoroughly. This ensures that your wheelie is as dry as possible, and that no dirt remains present.
The final step is to spray the entire bin with a eucalyptus-based sanitiser and deodoriser to leave your bin completely bacteria free and smelling great. We finish things off with a good wipe around the outside to leave things dry and shiny!
Thanks to the high-tech equipment and streamlined process that we use, our wheelie bin washing service is both safe and environmentally friendly. We conserve as much water as possible and waste none at all.
We ensure the most convenient service possible for our customers by washing the bin on the day of your schedule collection, meaning you don't have to leave your bin empty or put it out more often than usual.
Value for money
Our services are available to both domestic and commercial customers. We have a history of serving satisfied customers across Mackay, from residential customers with a single bin through to commercial premises and restaurants with larger or multiple bins.
If you're interested in making your bins safer today by having a regular clean, then get in touch with us by telephone or email to discuss your requirements, or make a booking. Our service offers great value for money and we're the go-to company for wheelie bin washing in Mackay.