Add a 'Bin Bomb' to your wheelie wash!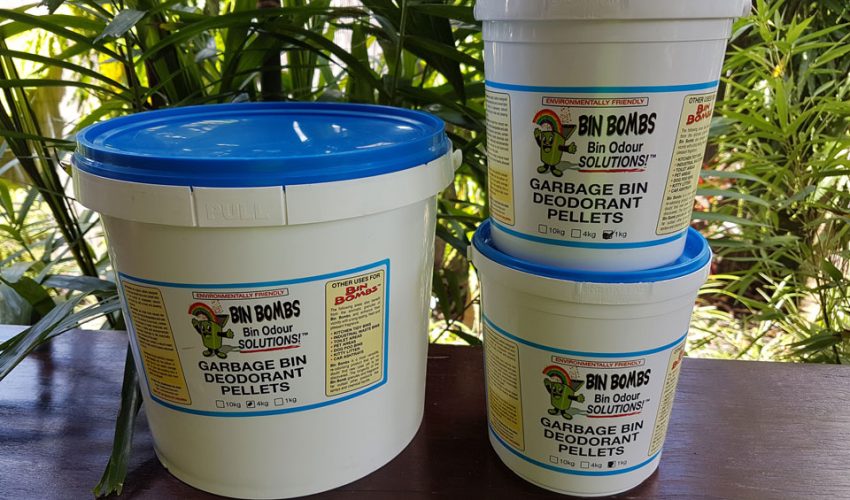 We're delighted to announce a new addition to our wheelie bin cleaning services in Mackay, with 'Bin Bombs' now available to give your bin that extra added freshness and blast away those foul odours.
If you're already a Deluxe Wheelie Wash customer, you will be well aware of the advantages of having a regular bin wash. A frequent cleaning service is vital to keep your bin clean and safe for your family, or customers at your commercial property. The standard services that we carry out are always safe and clean, while we also use techniques that conserve water. Not to mention, our service is always convenient to you.
However, there can be times when you are between cleans and your bin develops those unpleasant odours. Insects and flies may be attracted as well, meaning your bin is in a sorry state again. It can be from something as innocent as leftovers from a barbecue stewing in the midday sun, but pretty soon you're taking a wide berth around your wheelie or ditching it at the bottom of your yard.
The good news is; Bin Bombs may be the answer to your smelly bin issues!
Bin Bombs are manufactured by a family-run business right here in Australia. Produced in Western Australia, they are now distributed across the country due to their growing popularity, and that popularity is due in no small part to their effectiveness.
Using only natural ingredients, the Bin Bombs help give your bins a lasting fragrance to ensure that those unpleasant odours are a thing of the past. And that's not all!
In addition to the odour-busting fragrance, the ingredients used in the Bin Bombs also act as a natural insect repellent, helping to drive away those pesky flies and midges even when your bins are full and the sun is beaming down.
The Bin Bomb products have been used both domestically and commercially for many years, with uses ranging from eradicating offensive odours from family pets to freshening up large bin stores in busy restaurants.
One of the main ingredients of Bin Bombs is citronella oil, and entirely safe and naturally occurring oil that has been used for many thousands of years. It's perfectly safe, environmentally friendly and carries no risk to household pets. It's also what helps give Bin Bombs its insect-fighting properties!
Add Bin Bombs to your regular Wheelie Bin clean
We're happy to be introducing Bin Bombs to customers in the Mackay area, and you can add these to your regular clean from just $2. We can add Bin Bombs as part of both our commercial and residential services, ensuring our already affordable and convenient wheelie bin cleaning solution just got even better.
If you want more information about Bin Bombs, or any of our other services, feel free to get in touch today. We'll be happy to book an appointment or provide further information over the telephone or by email.